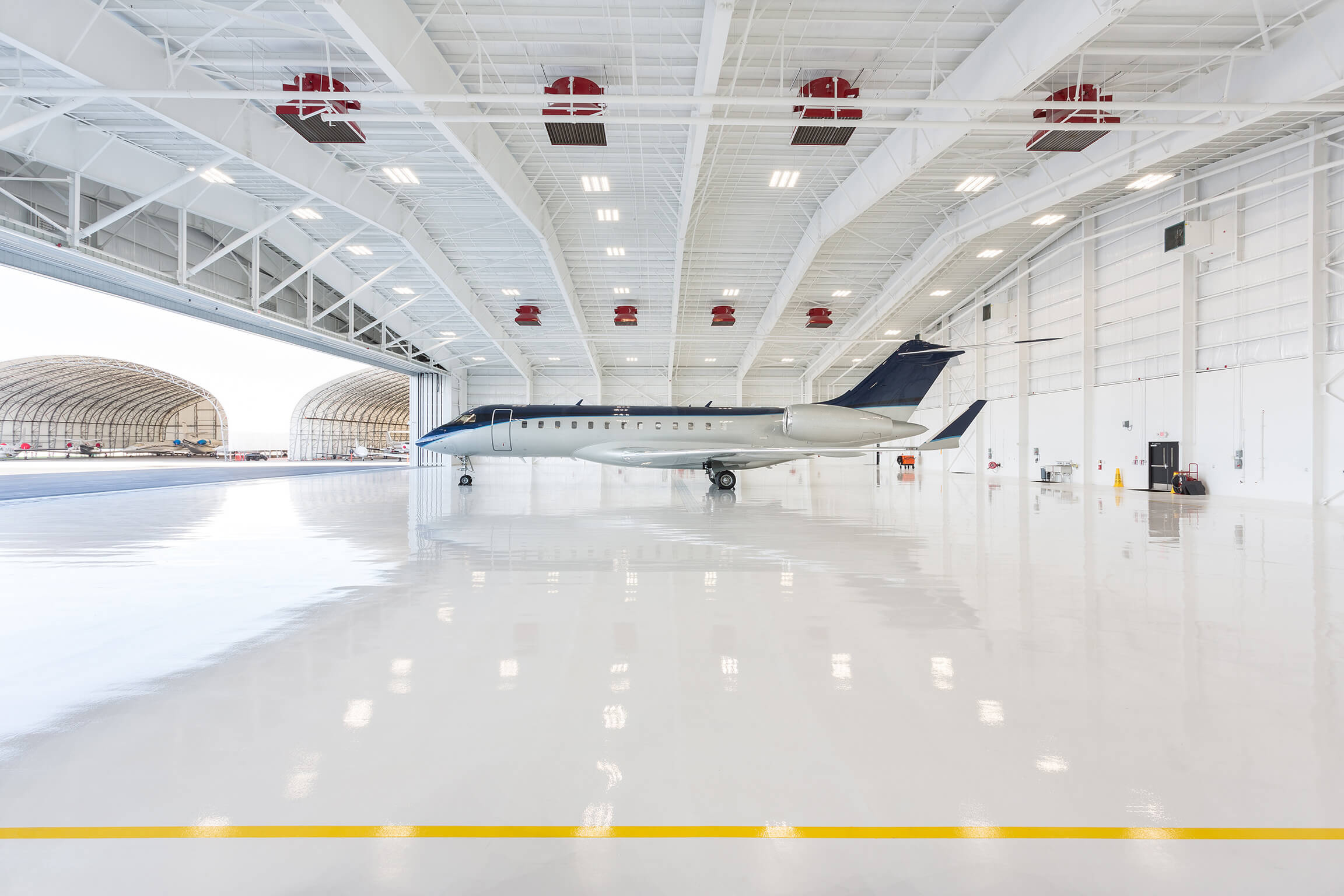 Established more than 30 years ago as the corporate flight division of Fontainebleau Development, Fontainebleau Aviation designed, built and began operating its own corporate hangars. Fontainebleau Aviation has been operating the facility as a private corporate jet center, offering renowned service, state-of-the art amenities and benefits to other company flight departments. In 2011, Fontainebleau Aviation's jet center expanded, acquiring its own fuel service capabilities and status as a full-service FBO while maintaining the feel of a private facility. Today, Fontainebleau Aviation embodies the excitement, glamour and service of a previous era, but in 21st Century sophisticated luxury.
Opa-locka Executive Airport (KOPF) features no landing fees and fewer (if any) delays compared to other regional airports, so your business – or pleasure – can begin as scheduled. Our airport is also the largest of Miami-Dade County's four general aviation airports, and is open 24/7 for the highest level of convenience. Additional airport features include:
A 8,002-foot-long runway (RL/27R) – one of the longest general aviation runways in the country – for accommodating virtually all types of aircrafts
Three instrument landing approaches to permit operations in both VFR and IFR conditions
U.S. Customs Service open daily
A wide range of high-end vendors on site to assist with aircraft repair and maintenance services, including airframe, power plant, and avionics repair
OPA-LOCKA EXECUTIVE AIRPORT (KOPF)
25°54'42″N 80°16'76″W AIRPORT LAYOUT Land 1,810 acres Elevation 9 ft. above sea level
RUNWAYS
9L-27R – 8,002 × 150 ft. Asphalt, grooved HIRL 9L -ILS VASI (V4L) GA 3.0° TCH 52' MALSR 27R -ILS VASI (V4L) GA 3.0° TCH 52' 12/30 6,800 × 150 ft. Asphalt, grooved HIRL 12 ILSThreshold disp. 800 ft. PAPI, GA 3.0° 30 PAPI 9R-27L 4,306 × 100 ft. Asphalt MIRL 9R VASI (V4L) GA 3.0° TCH 26' 27L PAPI
TRAFFIC PATTERNS ALTITUDES
VFR arriving traffic enter airport traffic area below 2,000' Heavy and Jet aircraft traffic pattern 1,500' Fixed wing aircraft 1,000' Helicopter traffic (cross field boundary at 500' or above) 500'
F.A.A. AIR TRAFFIC CONTROL TOWER
Hours: 0700 – 2300 local time Controls surface to 2,000 ft. AGL Class D Airspace
MIAMI AUTOMATED INTERNATIONAL FLIGHT SERVICE STATION (AIFSS)
Located at Kendall-Tamiami Executive Airport, the Miami Automated International Flight Service Station serves pilots from Lake Okeechobee south to the Equator. For information on their services, go to www.faa.gov/ats/afss/miaaifss or call 305-233-2600.
U.S. CUSTOMS (LANDING RIGHTS AIRPORT)
09:00-23:59 daily 305-687-5475
INSTRUMENT APPROACHES NOTAM
file MIA ILS 9L 110.5 (200-½) ILS 27R 111.35 ILS 12 111.55
WEATHER DATA SERVICES ASOS
(305) 681-4063 LAWRS MIAMI FSS 1-800-WX-BRIEF NOTAM File OPF (305) 233-2600
"This FBO and the people rock!!! They're all friendly and quick to help take care of our aircraft and passenger's needs. Everyone provided first-class customer service. This was our first time using Fontainebleau Aviation but it definitely will not be our last. Next time we're in the Miami area this will be our #1 FBO to use for all our needs."
"We had a client flying out of Fontainebleau for a vacation to the islands. After a last minute mechanical and some lost catering, we called to the FBO to see if they might be able to help us out by grabbing some replacement catering. Aneika, a wonderful CSR jumped at the opportunity to lend a hand and we couldn't be more appreciative. Thank you for your excellent service, Aneika and Fontainebleau!"
14200 NW 42nd Ave Opa-locka, FL 33054  |  PHONE 305.685.4646  | EMAIL INFO@FBAVIATION.COM  |  ARINC# 131.775  | Sitemap  |  CAREERS  |  PRIVACY POLICY