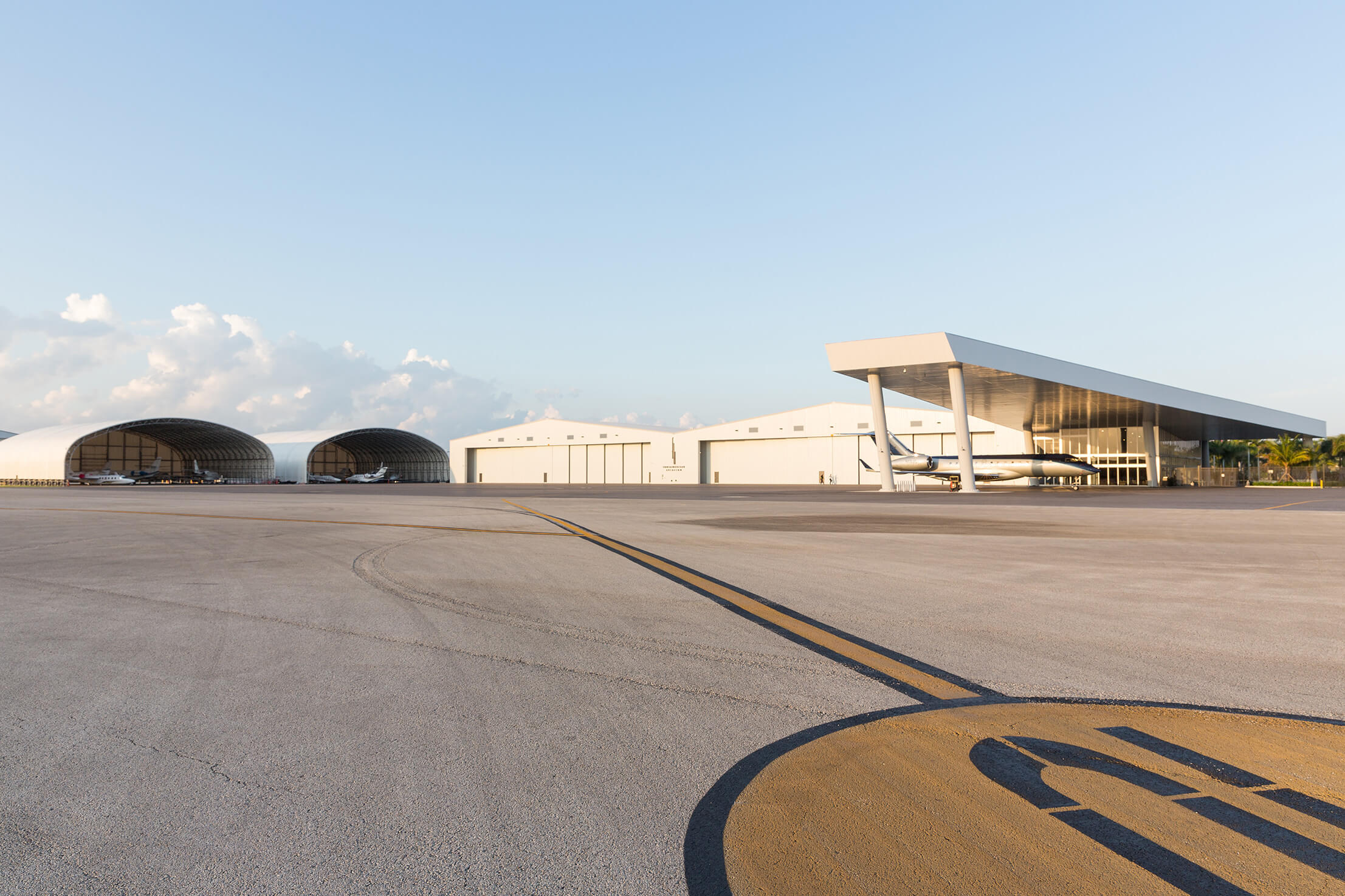 Welcome to your gateway into Miami, Fontainebleau Aviation. Our modern-luxe facility is your FBO haven with premier accommodations, anticipatory service and access to our family of properties.
A trip to our facility introduces you to an exclusive experience. We invite you to enhance your arrival under the largest canopy in the southeast region, gain access to 235,000 SQ. ft. of hangar parking, leasable office space, onsite maintenance and detail amongst other premier services. Our facility branches throughout 52 acres of land providing dual terminal access. Flying private has yet to be this elite.
The foundation we build upon emerges from the extraordinary Fontainebleau name. Our fundamentals derive from a standard of excellence.
LEASING HANGAR AND OFFICE SPACE
First Class offices and hangars are available for lease. Contact us to reserve your space now.
Our facility offers modern comfort and convenience for our professional clients, including private, well-equipped meeting spaces for conducting business.
Discounted Fuel Rates for Based Tenants
Contract Fuel
First-Class Hangars
Executive Suites/Maintenance Offices with Direct Hangar Access
A/V, Web Equipped Conference Rooms
Quiet Crew Lounge
Full-Service Concierge
Onsite 145 Repair Station
VIP Access Turnberry Properties
(Fontainebleau Miami Beach, Turnberry Isle Resort, Residence Inn by Marriott, Courtyard by Marriott Aventura Mall, Hampton Inn-Hallandale Beach) *Subject to Availability
GO RENTALS
Fontainebleau Aviation has partnered with Go Rentals an elite car rental service company specializing in the private jet industry. Go Rentals has an unwavering commitment to guest service – a mission to create deep, meaningful relationships with their clients by going the extra mile in the form of unparalleled, customized one-on-one service.
UNIQUE II WORLDWIDE
Fontainebleau Aviation has partnered with Unique II Worldwide to offer luxury ground transportation worldwide. Unique II aims to be the world's safest and most reliable luxury ground transportation company. Transportation needs will be seamless as Unique II Worldwide is based out of Fontainebleau Aviation.
Fontainebleau Aviation is pleased to offer the highest quality of concierge services to our clientele. Whether you're looking for delicious catering options or timely and luxurious transportation services, our partnerships with industry-leading service providers will help ensure a successful – and enjoyable – visit to Miami. If you are looking for additional services or have questions about your stay in our area, don't hesitate to contact one of our helpful concierge professionals at 305-685-4646.
14200 NW 42nd Ave Opa-locka, FL 33054  |  PHONE 305.685.4646  | EMAIL INFO@FBAVIATION.COM  |  ARINC# 131.775  | Sitemap  |  CAREERS  |  PRIVACY POLICY